I wrote a long comment recently on a local newspaper article about the opening of a new cycle path. It never made it past moderation…BUT I was prepared for that and had copied the text anyway. Here is an expanded version of that comment.
The part of the cycle way that goes up the hill beside the Roman Walls to King Harry Lane is nothing short of a complete disaster.
no barrier and leaves on the cycle side mean cyclists
cycle on the pedestrian side more often than not.
There is no barrier between the cyclist and pedestrian side. This means that certain cyclists ride on the pedestrian side because the leaf fall is less. I've been told a particular cyclist, maybe the Militant Cyclist*, has also played "chicken" with 5 year olds on their way home from school. With a golden coloured gravel, markings are next to impossible to see and the signs top & bottom which indicate who has priority on each side are small and easily overlooked if you're being charitable. I've had it mentioned to me by a cyclist that no delineation between pedestrian and cyclist would be much better. In a perverse way I agree with this; assuming you're free from being run over on the pedestrian side gives you a false sense of security that could end in disaster.
ignoring the markings
The surface makes it exceptionally hard for pushchairs and many parents on our estate have said that their kids can't use scooters on the path any more.
The second(!) layer of gravel, which is loose, is going to cause some monumentally nasty accidents. Whether they're right or not, the contractors physically laying the surface have been saying it's not suitable for that sort of gradient. I walk the path twice a day on weekdays and would point out that last year, with a more cyclist friendly surface, there were still two ambulance required accidents involving bikes on the hill. One of them almost involved me- a cyclist came off about 10 meters behind me, skidded along breaking her shoulder in the process and only stopped a couple of feet behind me. I was oblivious to it as I happened to be listening to a rather enjoyable King Crimson album at the time. Of course I helped her, and along with a dog walker (the irony would be lost on the Militant Cyclist), an ambulance was called.
I've genuinely no issue with a sensibly constructed cycleway but frankly this isn't it. Even before the path was completed, when there were multiple signs saying "cyclists dismount", cyclists ignored this and cycled on the crowded path.
*The Militant Cyclist's identity is unknown but several people have told me they think it is a woman who has forced several of them off the pavement on to the verge in the last couple of years and on one instance has actually collided with an elderly disabled person. The Militant Cyclist posted some severely nutjob laminated notices around the footpaths in the park back in September. Back in September, cyclists had no right of access to the park at all.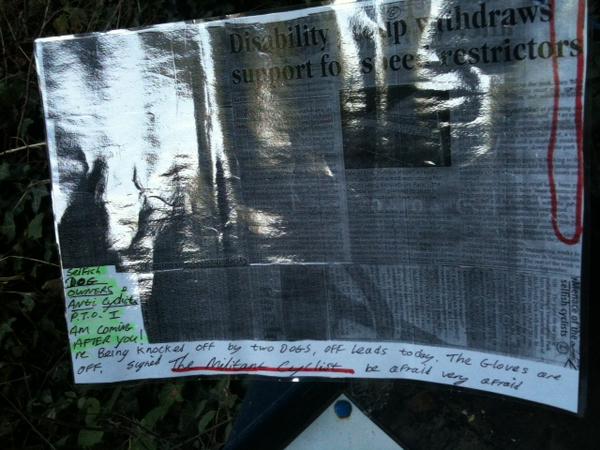 click for full size