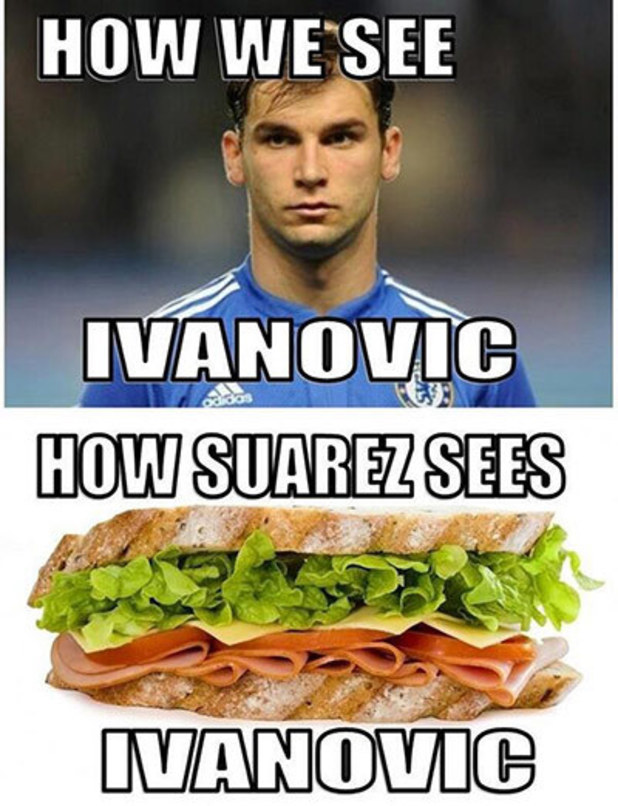 The Liverpool football player Luis Suarez has just received a 10 match ban for biting another footballer during a game at the weekend. The initial incident caused a lot of comment, not least of all jokes that the victim was in trouble now that Frank Lampard knew he was edible*.
I've already broken a taboo though, I've referred to Ivanovic as the victim, as though some crime has occurred. The general consensus among football pundits and newspaper sports writers is summed up nicely by Liverpool, the once great moral compass of British football, saying they're "shocked and disappointed" by the "severity" of the FA's decision. It has to be remembered that this is the very same club that defended the very same players racial abuse of another player to the hilt, even when he was given an 8 match ban for it.
Suarez himself got into trouble while an Ajax player for biting one of the opposition, so he has form, and also a questionable choice in diet- perhaps an iron deficiency?
Pundits and players are trotting out straw man arguments that the ban is longer than that awarded for a vicious tackle- Liverpool's own Jamie Carragher has said he would rather have been bitten than put out of the game for 6 months by a intentionally bad tackle that had a much less severe punishment.
They all miss the point that biting, as well as spitting (which in itself is a straight red card in football and carries a mandatory 3 match ban), are completely socially unacceptable in children, let alone adults, and let alone adults who earn millions and millions of pounds a year and are role models (whether they like it or not) to many impressionable kids.
What is a brilliant contrast is looking at the comments from parent bloggers and people who don't follow football on twitter compared to football fans/writers/correspondents. You wont find us running a poll over whether it's too harsh a ban, let me tell you!
You won't find any hand wringing bleating about the unfairness of it all, you'll see comments like:-
I have to give special mention to
@leemcivor
a Liverpool fan who I was chatting to on twitter who thought it was a just punishment and was horrified at it all. A sole sane voice in the wilderness from my own experience but perhaps I'm just unlucky in who I follow.
I was initially worried it was just me- two things are drilled into our kids from an early age: no biting and no spitting. It's one of the things I like to think makes us civilised. The last time any of our kids bit me was over a year ago. In a fit of anger and the confiscation of some toys that had been lying around, the boy tried to punch me in the balls and Fifi bit me on the arm. Once she realised what she had done in anger, she was mortified, went white as a sheet and started crying but I followed through, picking her up and putting her in her room, firmly telling her that
we do not bite in this household
.
If a three year old can understand this, I'm baffled by how a 26 year old footballer and the hierarchy of a football club can pay lip service to biting being wrong and be outraged at the punishment meted out.
Football it seems exists, and still wants to continue to exist, in some sort of moral vacuum that exonerates our
heroes
from culpability for their actions, however unsavoury. This can only be a bad thing for society and for our kids.
*there are plenty of Fat Frank jokes that still do the rounds about Frank Lampard's size. He's not fat.